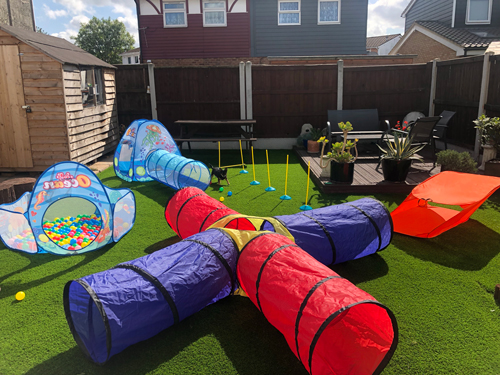 Out all day at work? mobility problems mean you can't easily exercise your dog?  or just popping out for the day? Let us collect your little one for fun and adventure with other like-minded small dogs. Be part of the Small Paws Playdate Posse!
A Small Paws playdate is a great activity for your dog because:
The interaction is only with similar sized dogs!
It's great exercise
It encourages socialisation with other dogs
It's supervised with a qualified care giver
You'll receive photos and video updates of your dogs antics
There are plenty of areas for rest and/or alone time if needed
It's fun!
The fun includes::
Ball pit antics
Tunnel adventure
Agility course
Tug of war
Fetch
Command training
Bubble fun
Free play
Winding down cuddles
If your dog has a favourite game or toy we will be more than happy to incorporate that into their play. Or maybe you are trying to train your dog with some basic commands? we can continue this training while your dog is with us.
We have a lovely secure garden with purpose-laid imitation grass that feels like carpet! It also means that even if its been raining we can still enjoy outdoor fun in the garden. In case of bad weather (it is England after all!), our home has plenty of areas in which to carry out the activities, or for your little one to seek alone time when they need a break from all the fun.  Whatever they like to do at home they can do here; we really do believe in making their time at Small Paws a truly home from home experience.