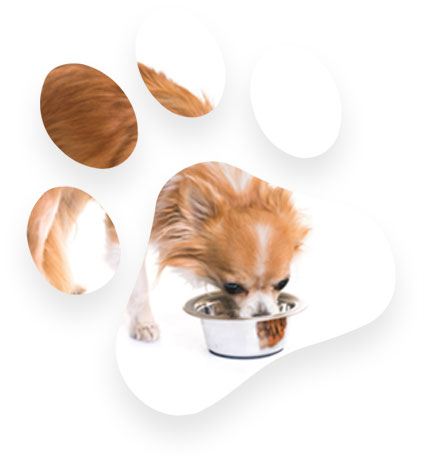 If Your Dog is Boarding With Us….
When your dog boards with us we consider it a holiday for them too! So let us indulge them in some fine food while they are here.  They can choose from:
Sirloin steak
Salmon filet
Fresh duck
If Your Dog is a Member of Our Day Care Playdate Posse….
If you like for your dog to have treats during the day we provide healthy treats such as:
For All of the Dogs Who Come to Us….
We provide bottled mineral water for drinking. The mineral content is more suited to canines and there is anecdotal evidence that it reduces tears and tear staining.
Testimonials
What People Say About Us
I cannot recommend Small Paws enough. My 7 month old mini Dachshund Honey has been coming here twice a week for day care since September, she absolutely loves it and has so much fun. I know she is well cared for by Jo whilst she is there and I receive regular updates, videos and photos.  It gives me peace of mind to know she is being looked after by someone who loves her as much as I do.
Honey also had an overnight stay at Small Paws.   I mentioned to Jo that she probably wouldn't stay in her own bed all night whilst there, but she did and has done ever since; its been a game changer for us.
If anyone is looking for daycare or boarding for their small doggies I would highly recommend Small Paws.
Paula – Miniature Dachshund
I cannot recommend Small Paws enough. I recently went on holiday and Jo and her family looked after my two fur babies.  As many of you can realte, I got slightly anxious when leaving them for the very first time together in years, but I was rest assured from the moment I stepped out of the front door.  I got daily updates, pictures and videos and they looked like they were having so much fun and made some friends along the way too!  I don't think they even wanted to come home! Highly recommend this lovely business and I will definately be using them again in the near future.  Thank you again Jo, you are amazing.  Alfie and Coco are missing you already.
Carly – Pug and Shih Tzu
Fantastic service and Jo is amazing with the dogs. Jo is great with our fur baby who is timid around strangers and other dogs. Since joining the playdate days, Lola is slowly coming out of her shell and Jo is amazing with her.  Jo is such a friendly, lovely lady and really loves dogs, and we don't have to worry becuase we know Lola is getting the best care.   Jo's reliable pick up and drop off service helps us with out busy work life schedules,  We love seeing the daily update messages, photos and videos of Lola's playdate days!
Alison – Cavachon
Jo was so good with my dog, made him and myself feel comfortable. I got regular updates and photos and couldn't recommend more.
Natalie – Poochon
Our Frenchie stayed for the weekend. I'm fussy about who we leave our dog with but I felt perfectly comforatable being apart from him knowing he was in very capable hands! Got frequent pictures and video updates which is always nice/ It looked like he had a great time and I will definately use in the future.
Zoe – French Bulldog
My little missy has just spent a few nights at Small Paws and she has had the best time! She has come home very happy and content. I can't recommend Jo and her family enough, they made Cookie feel like one of the family and spoilt her rotten! We have already re-booked for October for a week. Thank you Jo xx
Lauretta – Mini Dachshund
My little dog loves attending the playdates at Small Paws. He has a great time socialising with the other dogs, and I have peace of mind knowing he's only playing with dogs of his size. Big dogs can be a bit boisterous and when I've placed him in daycare with dogs of all sizes I was always worried that he was going to get hurt by a whack of a big happy tail or a large playful paw! It's so nice to not have that worry anymore.
Jo – Shih Tzu
My dog is 15 and suffers with dementia. Having had him since a puppy I have always been very protective and particular about anyone I entrust him to. Until recently I have always had family look after him but recently this was not an option. Jo at Small Paws only takes small dogs and her home is lovely and welcoming. He instantly settled into a blanket and loved sunbathing in her garden. He was so relaxed and the regular updates and pictures eased my mind completely. Without a shadow of a doubt I'd definitely ask Jo to have him again and recommend her to anyone looking for a loving secure home environment for their little furry babies.
Jaimie – West Highland Terrier
Fantastic service! Jo really cares about my two dogs. I loved the personal touch of sending me updates along with pictures of what they're up to while I was at work. Its so nice knowing that they're happy, safe and having lots of cuddles and kisses. I would highly recommend.
Laura – French Bulldog and Border Terrier